Jan
26
Sun
KCGS Australia Day 2020

@ Club Rooms,
Jan 26 @ 12:00 pm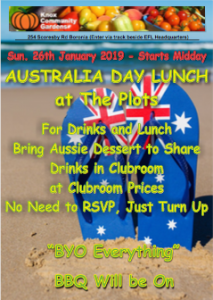 Australia Day
Sun. 26th January 2019 – Starts Midday
AUSTRALIA DAY LUNCH at The Plots
For Drinks and Lunch Bring Aussie Dessert to Share Drinks in Clubroom
at Clubroom Prices
No Need to RSVP, Just Turn Up
BBQ Will be On so you can put another snag on the BBQ
Feb
9
Sun
For the love of Garlic…growing and enjoying your success!…

@ Club Rooms,
Feb 9 @ 10:00 am – 12:00 pm
Come and join us at Knox Community Gardens for a presentation on all things garlic with John Presley from Butterfield Farm in Emerald.
John is a member of the Australian Garlic Industry Association.
This is also an opportunity to buy garlic ready for you to plant.  If you want a large quantity please advise in advance in the comments.
Light morning tea provided.
John is giving us a special price. they will be a Turbin variety 5 – 10-15 $ Bags around $5 / kg or there abouts.
https://www.facebook.com/knoxcommunitygardens/
ALL are welcome.
Notify Committee for a reserved Disabled Parking spot.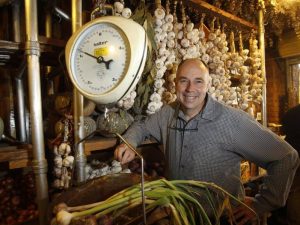 Feb
16
Sun
KCGS Harvest Festival

@ Club Rooms
Feb 16 @ 2:31 pm – 4:31 pm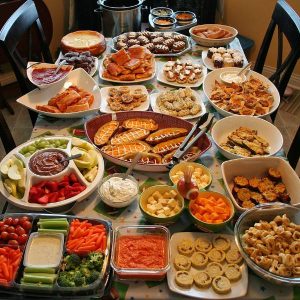 Bring a plate to share
" Winner Takes all " Produce Competition
Best Plot Competition
and More
Notify Committee for a reserved Disabled Parking spot.
At the Community Gardens
Sun. 16th Feb, 2020
2:30pm to 4:30pm
Afternoon Tea – Members asked to bring a plate of afternoon tea to share and celebrate. Committee will provide tea & coffee
Awards:
Major Award: Jim Bennett Trophy,
for "Best Display on Showbench" (* Produce must be grown at plots *)
Best Plot: People's Choice Best Plot: Committee's Choice
Come along and celebrate the end of the Summer Season. Compare note with fellow gardeners, brag about the size of your vegies or
lament the lack of tomatoes again! this year.